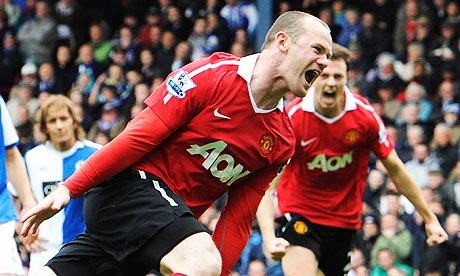 Kalau korang baca blog
FF
, korang mesti tahu yang dia adalah fan tegar pasukan bola the Gunners aka Arsenal.
Tapi, adakah korang tahu bahawa aku ialah fan MU?
Haha!
Macam mana lah dua orang yang berlainan 'football faith' duduk dalam satu rumah dalam keadaan aman ek?
Banyakkan toleransi la.
Tapi, biasanya aku ka bertoleransi lebih sikit dari FF.
Kalau MU & Arsenal lawan, tgk sama2 tu no hal lah.
Cuma kalau Arsenal kalah, kena tahan sikit lah emo FF.
Wah, kdg2 tersirap darah aku kalau dia kutuk MU lebih2, tapi dah lama2...masuk telinga kanan, keluar telinga kiri.
Kalau Arsenal menang, aku emo pun bertempat jugak.
Kalau dh MU main mcm haram, emo kureng la...
But after all these years kenal FF, dah agak masak perangai die time tgk bola.
Contohnya, seperti hari ni.
Penting ni...nak tgk MU mencapai misi merangkul piala EPL ke-19 kali.
Satu rekod dalam mengatasi nombor kemenangan yang sebelum ni milik pasukan Liverpool.
First half tu Blackburn dh kasi potong stim...
Tapi half time, FF tukar tgk AF pulak!
Rilek dulu, half time kan. Tapi dh lepas tu, die tak tukar2...
Adoiii...suh tukar, kejap2 tukar channel AF balik.
Tapi takpelah, yg penting dpt jugak tgk.
Nasib baik jugak aku skrg tgh pregnant...
Byk melayan senak perut je.
Aku tau FF tgh kecewa pasukan Arsenal dia agak bad luck season ni.
Tambah lagi skandal Arsene Wenger dengan 'yellow liquid' tu lagi, player transfers...
Takpe lah FF. Harap2 Arsenal nanti jadi datang Malaysia.
Kita pegi tgk eh..
Nak tangkap gambar dgn Arshavin, seekor meerkat yang comel.
Oh, tak akan dilupa...Glory Glory Manchester United!!
Walaupun korang main passing2 15min terakhir tu bagi aku mcm gampang...
Tapi as kata orang lain, "Whatever it takes to win the championship!"
Celebrate?
Aku celebrate atas katil je, makan jeruk.
FF dah keluar main futsal...
Perut aku pulak dh mula bermain2...so aku mau rehat.
Tata!